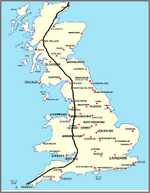 If you've found your way here you must be interested in cycling the "end-to-end" - the classic ride from Land's End to John O'Groats (LEJOG) - or any of the various flavours of the ride ... the JOGLE (John O'Groats to Land's End), or the various corner-to-corner options.
Having completed the ride (JOGLE, the downhill version - not really
) in 2005 we produced a Journal - Rob & Joe's JOGLE - which has, to our amazement, become a popular read so much so that we have made it available (with the route maps) on a DVD/CD from the ONLINE SHOP
There has always been a lot of interest in the ride and several attempts at creating a resource for would-be end-to-enders .... this is my contribution which has been precipitated by the, apparent, demise of the Ultimate Links website.
The plan is to create a website that not only lists all the ride journals but also adds more information . . . do please keep coming back to the site as I'll be adding more content.
Finally - when you ride YOUR E2E don't forget to list it on the calendar and then send a link to your journal!
Rob
Stratford-upon-Avon, UK
---
This site was created as a labour of love in 2009. The usage levels and time involved have grown far larger and much more quickly than I anticipated. I make no apology for the click-through banners that appear on some pages to link to the ONLINE SHOP that creates a very small amount of revenue.