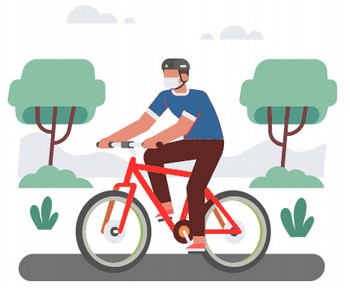 The News items that are below date back some time - there's been little added since 2012. That's not to say nothing has happened - the website has been live and seeing thousands of visitors - it's just that I've not got round to adding news etc.
I've reinstated the old news items just for interest, if there is any.
As may be expected in the current situation there is very little activity on the E2E - hopefully that will change for 2021 .... the website remains live for all the resources and planning guidance for YOUR ride.
[The previous version of the software automatically added a little date icon when articles were published - I'll try and get that to work going forward]
---
All of a sudden it's nearly the end of June ... although the weather suggests otherwise! Lots of riders on the road and listed in the calendar, for some reason there's about a week in mid-August when nothing is listed - other than that the days have been filled from the start of April to the end of September.
If you are riding this year do please add your ride dates ... and send your Journal to list on the website ... the statistics are showing massive numbers of hits and on Journals as riders look for ideas, routes, experiences etc.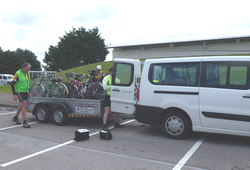 I've just been on our "Boys' Outing" ... eight of us went to Northern France and Belgium for a week: managing to visit a WW2 rocket launching site (Eperleques), a canal boat lift (St Omer) and lots of WW1 trenches, cemeteries etc - and staying 3 nights in Ypres/Iepr. Lots of fun, lots of beer - but only about 250 miles of cycling. The cycle faciliteis and signing in Belgium were a revelation - superb! [There'll be a report on our cycling club website soon - with pictures - I'll publish a link in the News when it's live]
And finally, I must mention the Eurotunnel Bike Service* - excellent : it's a mini-bus and trailer that takes 8 people and their bikes - they load it up, riders sit in the mini-bus and it goes on le Shuttle through the tunnel in 35 minutes ... and great value at £32 per person return.
Rob
* If you've read our Wine-ding Down Through France report you'll know that we should have used the service September 2008 but the tunnel caught fire as we were on the train from London to Folkestone!
---
So, the holidays have passed and we're into the season of diets and planning End-to-End rides . . . I've seen a sudden spike in the number of website hits and people ordering the Route Pack, the JOGLE & LEJOG CDs as well as a few seasoned End-to-Enders that have ordered the book and are planning to tackle the ride, Wine-ding Down Through France.
My own cycling activity for 2012 is starting to look exciting : firm plans to ride with the club EVERY Wednesday, and hopefully every Sunday too ... a Boys' Outing to the WWI museums and trenches etc in France & Belgium in June - not forgetting organising the MacRide and Shakespeare 100 fund-raisers [see www.macride-events.org.uk for details of these great rides]
Rob
PS : Don't forget that the very special offer is still open for the superb Telegraph Road E2E cycling jersey
---
After all those long winter evenings spent planning (and possibly agonising over) routes the End-to-End cycling season has started in earnest with lots of rides listed on the site's calendar - from now until October there are very few days when there's no ride listed.

When you ride do pleases think about sending a Journal to the site - new riders use the resource to plan their rides .... and don't forget to send your listings for accommodation, cycle shops etc ... and anything else that you think may help future riders : it'll all be added to the site to continue to compile what appears to be the definitive resource for the UK's greatest cycle-touring challenge.
---
Watch out for this guy on a fully-supported ride . . .