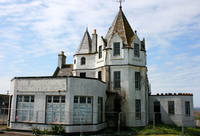 The run-down, derelict and sad hotel at the northern end of the ride at John O'Groats is apparently going to have a makeover. A celebration of the start of the new initiative, Transform, is scheduled for July 2011.
Details are HERE on the BBC News website (opens in a new window)
Hopefully the plans will come to fruition this time . . . there have been several grand schemes over the years . . .
JOG was awarded the "Carbuncle Award" in 2010 - with this quote : "Having cycled 800 miles* from Land's End to get here I would wonder why I bothered. This is the most anti-climactic tourist attraction that I know - and the UK is not lacking in these"
* must have taken a short cut somewhere - the minimum possible is supposed to be 874.
---