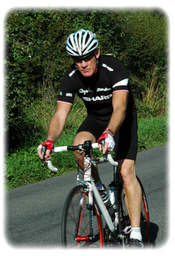 BJ, a friend of the webmaster, has just ridden JOGLE with the Deloitte Ride Across Britain event - 9 days top to bottom at almost racing pace. He came in 13th overall in a total time on the bike of 63:09:43 - not sure what the equates to in mph*
His post-ride thinking was that his fitness and riding training were fine but that the back-to-back riding was a challenge.
I echoed the comment about day-after-day riding with my two E2E unsupported touring rides ... he responded:
Having done the ride I wouldn't belittle any E2E - you're right about the challenge of getting on the bike each day. I think however the luggage issue was neutralised by the speed increase! By all means add an item to the website but I would like the record to show that I was severely slowed down on the last 3 days by acute pain and swelling from a left Achilles tendon injury!

... did I mention that BJ had a hip replacement last year? Chapeau.
* He says that the time included over 4 hours of enforced feed station and other stops - his net speed calculation is 16.5 mph ... he'd been aiming for 17!
---