News, updates & trivia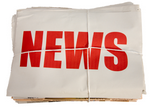 News about riders, the site and other trivia will be published here . . . if you have news then please use the Contact/Enquiry form.
---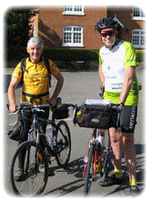 Not an end-to-end but a moderately challenging two-day ride from London to Stratford-upon-Avon - starting close to the Olympic Velodrome and finishing at the new Royal Shakespeare Theatre.

It's on Saturday 30 April - Sunday 1 May 2011 and is an organised, fully-supported two day ride of about 100 miles - an overnight stop, superb scenery ... something a bit different.

ENTRIES MUST CLOSE SOON - LAST FEW PLACES FOR THE WARWICKSHIRE START (with coach/bike transport), MORE AVAILABLE FOR LONDON CLICK HERE
Numbers are strictly limited - don't delay your entry
---

The End-to-End Collection of (at present 13) different route listings. Presented as a list of places - some very detailed, some just the overnight stops for you to plan your own route. Available for a donation of just £5 which will go to defray the costs of running the website. Delivered as a pdf for you to print.
Coasts, Islands, and Highland by Bike - Getting Ready : First of all and before continuing your visit you have to get into the right mood:

1. Install a strong fan in front of you
2. Put it on
3. Put on your speakers and listen to the tormenting sound of the bagpipes
4. Fill your glass with some pure Scots Highland Whisky
5. Light a peat fire, and breathe its smoke
6. Put on your bike helmet
7. Take place under your shower
8. Turn the water on!

Now you're well suited to share the REAL SCOTTISH HIGHLANDS BICYCLIST feelings with us, and to enjoy a closer look - [Dead link] for the report about a Swiss rider's trip around Scotland's west coast
---

From Adventure Cycling in the US : Bike Bits Vol. 13, No. 4, February 16, 2011 - Bike Bits has heard from two individuals in Britain recently, each offering information on a unique route--both of which sound top drawer.
First, Rob, who lives in Stratford-upon-Avon, wrote to say this: "Thought you might like to feature my site that covers the UK's End-to-End [E2E] ride, tackled by many riders each year and, perhaps, the ultimate ride on our small island." The E2E route goes from John O'Groats, situated in Scotland at the extreme northeastern tip of Great Britain, to Land's End, a settlement in Cornwall, England, located at the southwestern-most tip of the British mainland. The shortest distance by road is 874 miles. www.cycle-endtoend.org.uk
. . that's just cycling that we're referring to here (whether that's one, two or three wheels - upright or lying down) for the End-to-End.

In reality, nobody knows as many riders just do it and don't fill in the record books at LE or JOG - sometimes because they don't want to, or don't know there are books ... or the book-holding locations are closed. The Land's End Company has the End-to-End Club but despite enthusiasm from the lady who runs it, the information is scant.
Found this amusing quote somewhere :
"I personally like to drill holes in my socks to save weight. I estimate you can drill out approximately 50% of the sock without compromising structural integrity. And the actual performance benefit is much greater than the dry weight reduction due to the reduction in rotational inertia through your pedal stroke"
. . . but then drilling holes in chainwheels, brake levers etc used to be the vogue ... and of course minimising the length of the bit of cable that protrudes from the brake caliper!
---
. . I stumbled across this quote and thought it was appropriate to the pleasures derived from riding the end-to-end :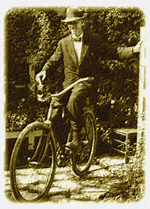 It is by riding a bicycle that you learn the contours of a country best, since you have to sweat up the hills and coast down them. Thus you remember them as they actually are, while in a motor car only a high hill impresses you, and you have no such accurate remembrance of country you have driven through as you gain by riding a bicycle.
~ Ernest Hemingway
---
An extract (with permission) of the CTC Cycle magazine article that appeared in the December 2010/January 2011 edition is now in the Journal library (under Other routes - UK, No 569)
Four different takes on the classic journey - including a ride in 2010 on a Raleigh Chopper!
---