Our train tickets, with the all-important cycle tickets, are now booked for all four segments of the journey: home to Bristol; Bristol to Penzance; Inverness to Edinburgh; Edinburgh to Birmingham and home. The sector from John O'Groats to Inverness is with a minibus and trailer service.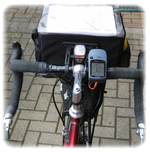 The map-case for the printed map, the cycle computer and Garmin GPS

The complete route has been plotted using Memory Map and then printed (as a .pdf) in A5 pages before being colour printed and wire-o bound into 4 separate volumes, each of c60 pages. The maps are the Ordnance Survey 1:50 000, but with the scale reduced slightly.

The same Memory Map routes have been converted to .gpx files and uploaded to the GPS through Garmin MapSource as a file for each day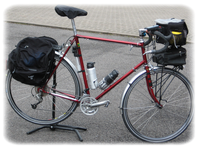 The rebuild of Rob's 1975 Galaxy is complete.

A complete strip-down for the frame and forks to be powder-coated in metallic red - then rebuilt with a new bottom bracket, headset, brakes, cables and chain together with a new front rack - all other parts have been re-used.

The luggage is a new (old stock) pair of Karrimor panniers and an Altura bar bag. The small bag on the front rack is for tools, parts, tubes etc. and a lock.

Waterproofs will be stored in the top netting pockets on the panniers

The route is agreed, the maps and .gpx files finished, the overnight accommodation bookings made - we're all set.

Steve will be joining us for the Crediton - Bromyard leg, and Aidan from Bromyard to Whitchurch.