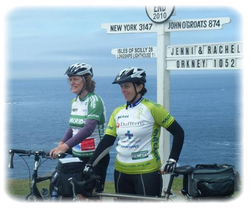 Jenni, one of the Stratford-upon-Avon Laydeez, called from Land's End at about 1415 today to say that she and Rachel had arrived . . . there was much background noise and what sounded like a champagne cork popping.

From the brief conversation it seemed that after a wet start it all got better and that they managed to follow Rob & Jon's LEJOG route in reverse (although Rachel did get confused with Nick's Lift*)

Perhaps some pictures may arrive with the webmaster when they get back from the hairdresser their celebration lunch.
* Jenni being from New Zealand has a bit of an accent ... it took the cycling club ages to work out that "Nick's Lift" was actually "next left"