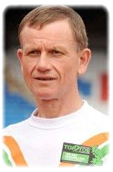 "Blind Dave" Heeley from West Bromwich is taking on a challenge that puts just cycling the E2E in the shade .... he intends to run AND cycle almost 1,000 miles in 10 days - raising funds for Macmillan Cancer Support.
Each day (from 10 August 2011) will start with a 26.2 mile marathon run, he'll then get on the back of a tandem and cycle the remaining distance scheduled for that day!

Rob the www.cycle-endtoend.org.uk webmaster provided Dave and his support team with some initial route planning maps and a few tips and tricks for the epic ride.
---