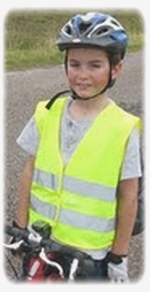 Tommy, an 11 year-old from Hampshire has just completed his LEJOG ride in 22 days ... he did ride with his parents!
The full story can be found in The Journals : No 593 - An 11 year-old and Three Old Timers
Tommy's father, Alastair wrote : We started our planning for our LEJOG about 12 months or so before we undertook our adventure and relied heavily on the excellent resource of the CTC forum and Rob 's Cycle : End-to-End website. Our tour started on the first day of Tommy's summer holiday break and was scheduled to last 22 days.
We had decided that our tour and our daily rides should be set by the riding ability of our son anticipating that he is likely to get fitter and stronger as the tour went on.
The records for youngest rider are a bit hazy, there are reports of chldren on seats and in trailers - but Tommy's fantastic achievement, under his own steam, is worthy of a mention.
---