All of a sudden it's December and yet another year has flown by . . . with lots of riders having enjoyed (hopefully) an End-to-End ride - the season seems to start around late March and continue into October.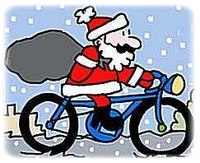 The website is getting high volumes of hits, which is good, but I'd really like to see more Journals to list ... and to help would-be riders, The Directory feature for accommodation, cycle shops, tea rooms etc needs YOUR input - please take a moment to send the details (there's an online form) for places you have used.
I'll probably not be writing anything more before the end of the year - so have a great holiday season, and if you're planning YOUR BIG RIDE for 2012 don't forget to look at the mass of resource here on the Cycle : End-to-End website
... and finally, a big thank you to everyone that has contributed their ride dates, journals, directory suggestions . .. and made a financial contribution with a donation or purchase of the books, CDs and route pack.
Rob
PS : I do this as a hobby, and to put something back into cycling ... my other obsession is running the MacRide series of cycle events - see www.macride-events.org.uk for some great rides, raising funds for Macmillan Cancer Support.
---