All of a sudden it's nearly the end of June ... although the weather suggests otherwise! Lots of riders on the road and listed in the calendar, for some reason there's about a week in mid-August when nothing is listed - other than that the days have been filled from the start of April to the end of September.
If you are riding this year do please add your ride dates ... and send your Journal to list on the website ... the statistics are showing massive numbers of hits and on Journals as riders look for ideas, routes, experiences etc.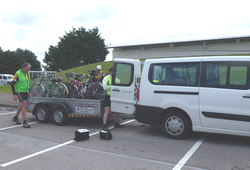 I've just been on our "Boys' Outing" ... eight of us went to Northern France and Belgium for a week: managing to visit a WW2 rocket launching site (Eperleques), a canal boat lift (St Omer) and lots of WW1 trenches, cemeteries etc - and staying 3 nights in Ypres/Iepr. Lots of fun, lots of beer - but only about 250 miles of cycling. The cycle facilities and signing in Belgium were a revelation - superb!
And finally, I must mention the Eurotunnel Bike Service* - excellent : it's a mini-bus and trailer that takes 8 people and their bikes - they load it up, riders sit in the mini-bus and it goes on le Shuttle through the tunnel in 35 minutes ... and great value at £32 per person return.
Rob
* If you've read our Wine-ding Down Through France report you'll know that we should have used the service September 2008 but the tunnel caught fire as we were on the train from London to Folkestone!
---