After the marathon journey involving a car and trailer, three train rides and a little bit of cycling we're back at our respective homes.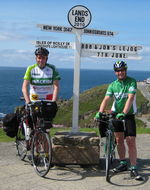 We'll be producing the Journal, Rob & Jon's LEJOG 2010 together with a detailed route map (as Journal 176 which has "sold" over 150 copies in aid of Macmillan Cancer Support) - in the meantime here's the classic picture taken in bright sunshine the evening before we started, contrasting with the rain and mist we set off in on the following morning!
Unfortunately the photographer at JO'G was not to be found, and being a canny Scot had taken the sign away ... we have a picture at the post and will be doing a bit of Photoshop trickery to create an image!
--
From Rob's desk