Latest from the handlebars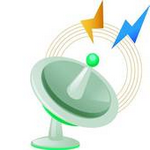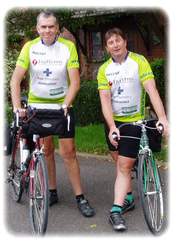 News from the road as Rob (the webmaster) & Jon ride LEJOG
Train from Birmingham, via Bristol, to Penzance and cycle to Land's End on Sunday 6 June 2010 : on the road from Monday 7 June 2010 - arrived at John O'Groats on Saturday 19 June 2010

The messages below were all transmitted during the trip - e-mailed direct to the website.
---
A post-ride message from Rob's brother Roger :

The handlebar blogs were most interesting but I wonder if you can help me on one point. I have been searching all the usual websites (Halfords, Decathlon, Wiggle etc) but just can't find anywhere to buy a 4 ring chainset. I wonder if you could point me in the right direction?
Avid followers of the adventure will recall that Jon managed the ride "without using the inner chainring" - the implication being that the gearing on his inner chainring was very/too low - or that he had legs of steel!
---
We really did get to JOG although we had no "official photograph" evidence as the photographer wasn't to be found - and the sign gets dismantled when he's not there.
Thanks to Mike A, Photoshopper Extraordinaire, we now have a photograph, complete with the date!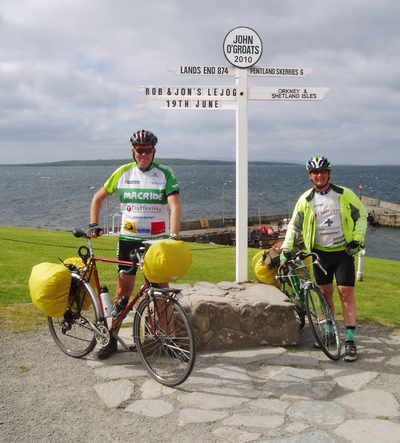 Additional thanks to Peter H for providing the original photograph for the signage
---
After the marathon journey involving a car and trailer, three train rides and a little bit of cycling we're back at our respective homes.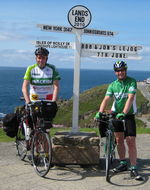 We'll be producing the Journal, Rob & Jon's LEJOG 2010 together with a detailed route map (as Journal 176 which has "sold" over 150 copies in aid of Macmillan Cancer Support) - in the meantime here's the classic picture taken in bright sunshine the evening before we started, contrasting with the rain and mist we set off in on the following morning!
Unfortunately the photographer at JO'G was not to be found, and being a canny Scot had taken the sign away ... we have a picture at the post and will be doing a bit of Photoshop trickery to create an image!
--
From Rob's desk

I realised this morning I was handicapped as I carried the trip's "kitty fund purse" AND the biscuits for the whole ride .. no wonder some of the hills were a struggle!

--
From Rob's handlebars


GPS audit by Jon with revised distance of 924 - I KNEW it was more, it felt like it.

--
From Rob's handlebars

Final reflections

Sometimes not being able to tell which county we were in - gentle,
green, rolling countryside; patience of drivers especially the logging
lorries; genorosity of the public.
Knowing that I had cycled 924.7 miles with 16lbs of luggage and never
used the inner chain ring!

Sent from the Mercian's handlebars by Jon