News, updates & trivia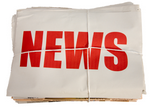 News about riders, the site and other trivia will be published here . . . if you have news then please use the Contact/Enquiry form.
---
Bikexplore offers a wide range of cycle tours, both in the UK and around the world. Each holiday reflects the leader's cycling personality leading you in their own careful way, to the special places they have found, along the kinds of roads or paths they love to travel.

The business is owned and run by its leaders, each of whom us has a passion for the places they visit and a wealth of previous experience in organising cycling holidays (mainly, but not exclusively for CTC Holidays)
The roster of leaders is: Brian Curtis, Richard Dugdale, Chris Ellison, David Goodworth, Tony Gore, Martin Jamieson, Chris Juden, Steve Millard, Neil Wheadon & Greg Woodford.
See the listing on the site under: Resources/Planning/Holiday organisers
---
. . I stumbled across this quote again and thought it was appropriate to the pleasures derived from riding the end-to-end :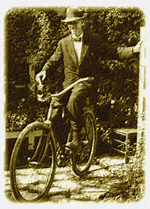 It is by riding a bicycle that you learn the contours of a country best, since you have to sweat up the hills and coast down them. Thus you remember them as they actually are, while in a motor car only a high hill impresses you, and you have no such accurate remembrance of country you have driven through as you gain by riding a bicycle.
~ Ernest Hemingway
---
Long distance cyclist Richard Lake posted his thoughts on a cycling forum together with a YouTube video :
Richard has a series of other E2E videos on his YouTube channel - with permission from Richard there is a link to the channel under the Resources/Planning/Links section.
---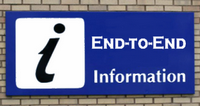 The Directory of Accommodation and Cycle Shops will only work if riders submit establishments ... if you have stayed at places that you think would be suitable for other riders, or used a cycle shop please tell us (there are quick to complete forms) - we'll contact the establishment and do the rest.

Cycle End-to-End is creating a resource for cyclists .... please help!
---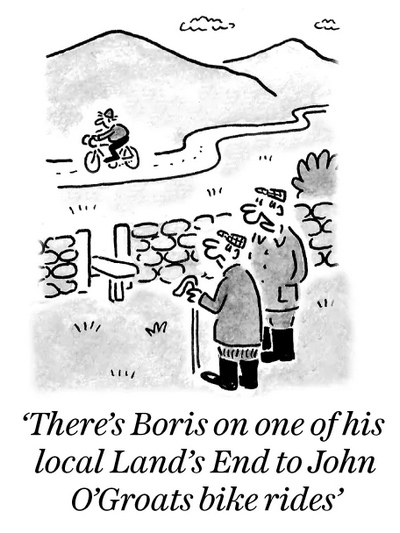 This cartoon appeared in the Daily Telegraph today - the underlying joke being related to Prime Minister Boris Johnson being spotted riding his bike at the Olympic Park during the Covid lockdown.
The cartoon is published without permission (I'm sure they wont mind) and is solely for purposes of humour and in no way any comment on the political or right/wrong aspects from the Cycle : End-to-End website.
---

A new entrant in the cycle touring field offering a popular End-to-End ride - Chris Ellison, the E2E organiser is well-respected with his experience running the CTC LEJOG supported rides. The company is listed on the site under: Resources/Planning/Holiday organisers
---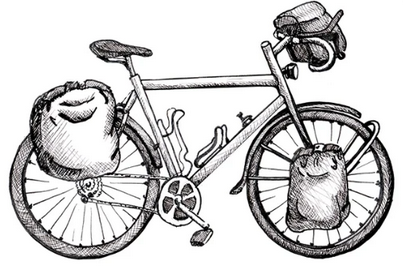 With the lockdown announcements today applying to both England & Scotland any End-to-End rides aren't permitted - BUT they can still be planned as something to look forward to . . . although when is an unknown
All the resources are on the site - lots of Journals to browse, details of guide books etc - and inspiration.
---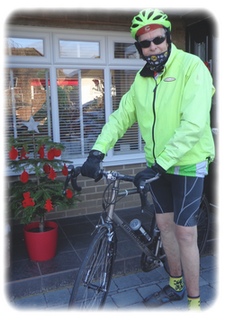 Well, 2020 has been pretty depressing but let's hope 2021 is better - and we can all do more cycling . . . and plan that End-to-End ride!
- webmaster
OK, I have to own up, the photograph was taken on Christmas Eve 2020, not Christmas Day!
---