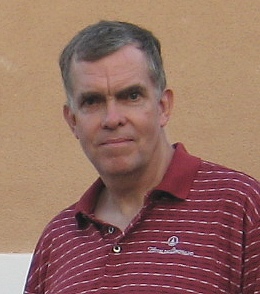 This is the man - and look how the picture's background and the shirt tone with the site's theme colours!

As it says on the main Cycle : End-to-End website, I'm a keen cyclist (and bike fettler) and increasingly woodworker - living in Stratford-upon-Avon.

Having drifted away from cycling as a result of : going to work, driving a car, getting married, having children .... I eventually got back to cycling again.

The return to cycling was precipitated by the need to rehabilitate a damaged knee in 1997 - after 18 months of discomfort and two arthroscopies the consultant recommended cyclng as a non-impact exercise, undertaken sitting down (most of the time) with a rotary action for the knee ... and good cardio-vascular exercise too.

After a few short rides I became more adventurous and went out with the local cycling group, Shakespokes. Cycling holidays followed and riding with the CTC ... as well as acquisition of more bikes.
In 2005 I organised, as a volunteer, the MacRide which became an annual cycling event raising money for Macmillan Cancer Support - that spawned the MacRide Tour and the Shakespeare SPRING and AUTUMN sportives . . which (from 2005-2016) raised about £800,000 (net) for Macmillan. I have now "retired" from the MacRide Events.

In 2014 I had a cancer experience resulting in some pretty unpleasant chemotherapy followed by major surgery - thanks to the wonderful consultants and staff at Warwick Hospital and Coventry University Hospital I'm back in pretty good health and after about 8 months was back on the bike in earnest!

Having retired a couple of times, in November 2016 I started working part-time in a local bike shop - that developed, along with acquiring a Cytech mechanic qualification, into managing the shop full-time when the previous manager left in early 2017. I retired from the shop at the end of 2019.
My time is now spent cycling (as a member of Heart of England Cycling Club and also Wellesbourne Wheelers), pottering about repairing bikes, woodwork projects and making and mending things . . . as well as generally trying to enjoy life.