As well as the machines below . . . . quite a few old machines have found their way from various places to the garage . . . to be stripped, re-fettled and kept, sold or given away - se the Gone section
---
PlanetX Pro Carbon Disc - roadbike
Mid (? late) life crisis!! I bought this new as a pure indulgence in A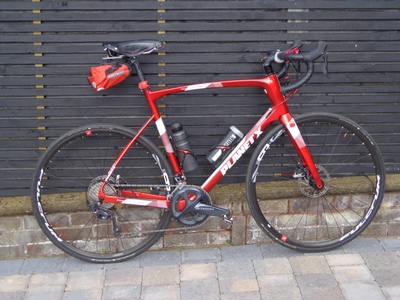 ugust 2019. Well specced with Ultegra Groupset, Fulcrum Race wheels, disc brakes, carbon seatpost - and I upgraded the tyres to Schwalbe Pro One tubeless. Bling was emphasised with red bits and pieces : valve caps, cable ferrules and end caps as well as a personalised top-cap on the headset and red Ortlieb under-saddle bag. The only concession to modernity was to replace the saddle with a black Brooks B17 (laced in red).
The purchase of the bike was a different experience - I specced the bike, paid for it (less a discount) and then went to the PlanetX warehouse where, along with about 7 or 8 other customers with various bikes, I built the machine myself! Being Cytech qualified gave me a bit of a start over the others! A great day out and something different.
[I think PlanetX has discontinued the self-build option]
---
Van Nicholas Ti Ventus - roadbike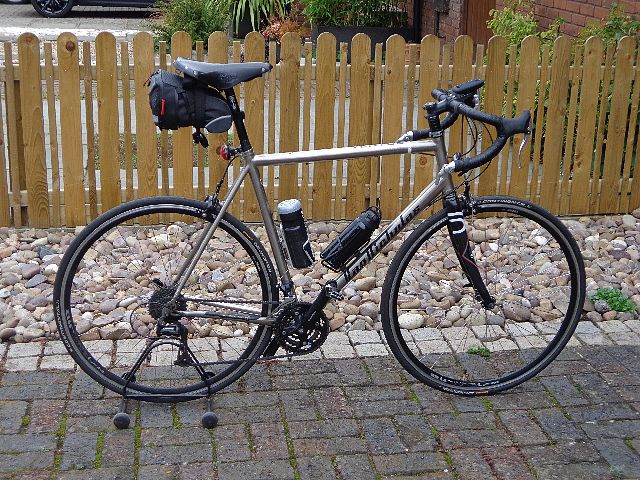 Having purchased the Van Nicholas Yukon I was delighted with the ride (albeit very limited use in the first twelve months of ownership) and in March 2015 acquired a s/h 2014 Van Nicholas Ventus Ti frame and Dedacciai carbon fork together with handlebars, saddle, seatpost, stem, Ti bottle cages etc - and built the complete machine up with some components from "stock" including a pair of wheels that came from a high-end Giant road bike and a few parts bought in.

The frame geometry will give me a pure road bike - being titanium it's amazingly light and with the low gear ratios I've chosen it should get me up hills reasonably comfortably.
June 2018 - rebuilt with a new 10-speed groupset to bring the transmission up-to-date (the original build had a mix of road and MTB components with old-style bar-end shifters) - and also fitted some titanium parts - stem, seatpost and bottle cages. [New picture to follow]
---
Van Nicholas Ti Yukon - tourer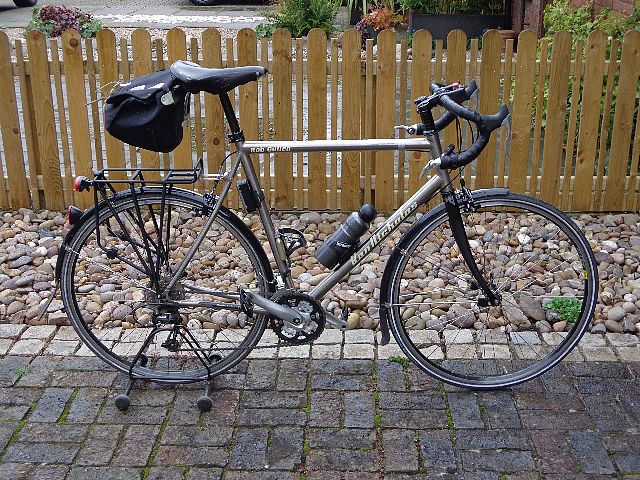 In January 2014 the disposal of a number of machines and "stuff" over the previous few months had freed up space in my garage and provided funds for a new machine manufactured from exotic materials - Titanium and carbon fibre!
Purchased as frame and forks I used a mix of components from a previous project and some new components, the plan being to build a touring bike to, eventually, replace my venerable Dawes Galaxy. Fitted with Schwalbe Marathon tyres, rack, mudguards, Brooks B17 etc. and ready for the road in early May 2014.
Unfortunately serious illness and some radical surgery kept me off the bike from mid-May until early March 2015.
The rack, stem, bottle-cages and seatpost were replaced with Titanium items (it's only money!) in November 2018 when the groupset was upgraded with a 10-speed set-up to bring the transmission up-to-date (the original build had a mix of road and MTB components with old-style bar-end shifters) [New picture to follow]
---
Brompton - folder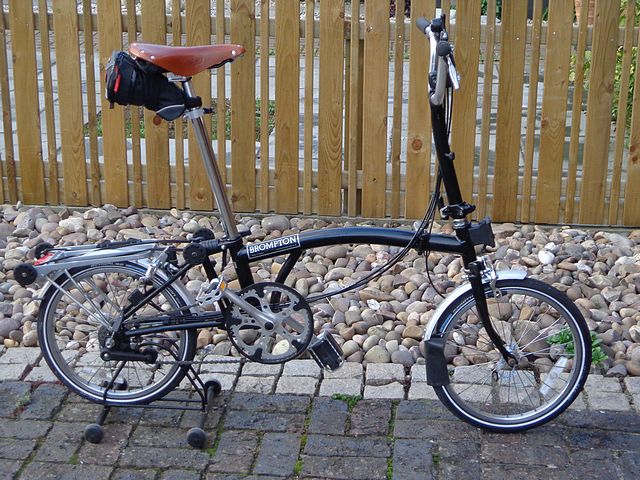 The ultimate folder. A Type T, 2005. Purchased in February 2016 in a pretty sorry state - frame and components were all sound, just very dirty.
The machine is a 6 speed with a 3-speed hub gear and 2-speed "derailleur" (it's not really a deraileur, rather a chain pusher-cum-tensioner) .
Refurbishment and servicing was undertaken with new parts, chain, right-hand pedal, cables/outers and retro-fitting the "fold stopper" clip between the main frame and swing rear frame - a pair of new tyres and a Brooks saddle. It also has the Brompton front luggage bag.
---
Pub/shopping bike (out on loan)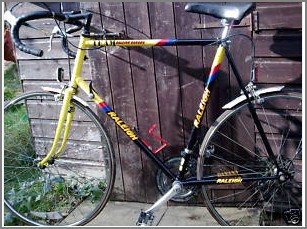 Having pruned the number of bikes I then realised that popping into town on a £2,000+ Ti bike and locking to a drainpipe outside the Post Office was not clever - I needed a bike that was of little value (and could be kept in the garage at home without locking it up)
A large-framed Raleigh Banana replica Tour of Britain frame/forks was acquired from the Cyclists fighting Cancer Charity Bike Shop where I volunteered at the time (all components, wheels, paintwork etc were shot and it was destined for the metal recycler!). It was given a cheap powder coat and assembled into a single-speed bike from parts I had in the workshop - just had to buy some mudguard stays and an 18T s/s freewheel . . . the chainring is an old MTB triple spider with the one ring bolted on the inside to get the chainline correct!
This machine is now on loan to my brother-in-law who has it on a turbo as an exercise bike
---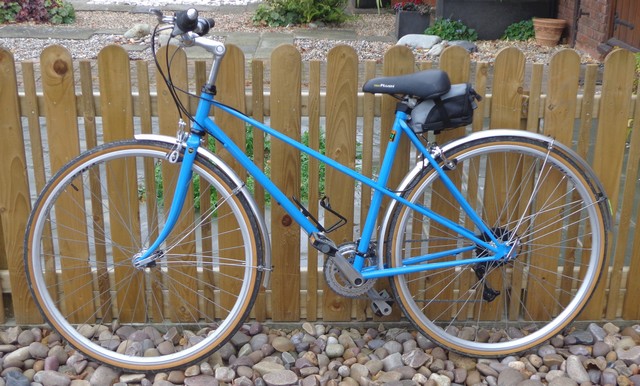 Mrs Rob's Peugeot Riviera
Peugeot Riviera Mixte c late 1970s - acquired in October 2016 from the charity bike shop (see above) as a complete machine - all components except frame and forks were discarded and after a powder-coat to refresh it the stuff from the Claud Butler Majestique moved across.


---
Rob's Grandchildren's machines

1 boy, 3 girls - the arrangement is that I own (and maintain!) the "fleet" of children's bikes and add to/dispose of them as they are outgrown.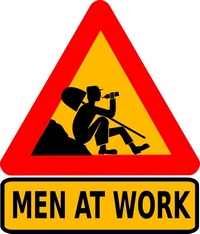 Islabike CNOC 16


16" wheel, scaled-down bike, the next step from a balance bike, cutting out the stabiliser/training wheels stage.
UPDATE August 2015 : A further 16" Islabike has been acquired for a grand-daughter (cuurently 2.75 yo) an ebay bargain too good to miss - it'll keep until she's about 4.5/5 you.
UPDATE May 2018 : The first machine, having passed from the original recipient to his sister and then outgrown machine has now been sold. ... and in keeping with Islabike secondhand prices, at very close to the original purchase cost.

Islabike Beinn 20 (Large)

In stock (from November 2013) ready to succeed the 16" machine - an ebay opportunity that was too good to miss, despite being about 2 years before it will be needed!
A good clean, new cables and polish before wrapping and storing.
UPDATE February 2015 : Now in use, upgrading from the 16"
UPDATE March 2017 : A further model acquired, for my other daughter's daughter when she graduates from the 16"

Islabike Beinn 26 (small)

Snapped up from an ad on a cycle forum in October 2016 - two-years old and in excellent condition.
December 2017 : Another of these machines, in grey, acquired ready for future use.

Islabike Luath 700 (small)

Another bargain that was too good to miss in May 2016 - it'll probably be in storage for about 4 years until the eldest grand-child grows into it! Picture: Islabike website


Scooter

1950s Triang scooter - picked up in a junk shop in Rye for £4 in a very sad state ... cost 5 times that to get it stripped and powder coated! Now fitted with black handlebar grips and in use.