I've ridden the boards at Manchester & Newport Velodromes!

Manchester Velodrome – November 2007
To celebrate my (significant) birthday, my daughters hired the Manchester Velodrome (Built in 1994 and used for the 2002 Commonwealth Games) for a private track riding session.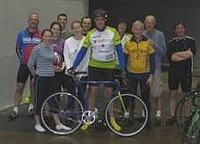 Fixed-wheel bikes, no brakes, steeply banked track - awesome!
I, my daughters & partners and cycling chums spent the session, with guidance from Fred the coach, pounding the track … slowly and carefully at first, moving to considerable speed and getting well up the banking - with some timed laps to sort the men from the boys, and girls (Results withheld by request!)
Picture : (l-r) Andy, Tamsin, Olivia, Olly, Zoe, Tom, Rob, Jenni, Steve, Martin and Jon. Mrs Rob took the picture, she didn't ride.
Manchester Velodrome -April 2008
Another session at the track - the weekend following the World Championships. Fixed-wheel bikes, no brakes, steeply banked track and 14 riders (8 in MacRide jerseys) with a coached session.
Newport Velodrome - October 2008
Change of venue this time, to Newport Velodrome with the same size (250 m) track as Manchester but in a smaller building. A group totalling 27 riders, in two groups. Some slightly different exercises with a flying time trial and "chase the peloton" ride where the front rider peels off and sprints to catch the back marker within (hopefully!) 2 or 3 laps.
Newport Velodrome - December 2008
A track riding session for 15 pals from various connections - and I rode my new Geoffrey Butler track machine (see Bicycles/Gone) Our session was delayed starting as Chris Hoy and Jamie Staff were using the track for some training and filming with Sky. (They did ask if they could join our session, but as they hadn't booked in advance we couldn't let them)
Manchester Velodrome - February 2009
Another session with twenty-two riders, in two groups, pounding the boards. Not much else to add - just as much fun as before - and requests for another booking ....
---
Track riding - text extracted and abridged from the British Cycling website.
Track racing is one of the most exciting types of cycle racing both to watch and take part in. It is also accessible: at the track you can be just inches away from the cyclists riding at speeds of up to 80kph - yet you can ride on the very same track to have a go yourself.
Track racing takes place on short specially built tracks consisting of two tight, banked corners joined by two short straights. Tracks range hugely in length - outdoor tracks usually being longer and with shallower bankings - but Olympic and World Championship Track racing is generally held on indoor 250m wooden tracks like the Manchester and Newport velodromes. Many outdoor tracks are concrete or tarmac surfaced.
Track bikes are relatively simple in that they have no gears or brakes. The bikes have a fixed wheel (forcing you to pedal continuously) so the rider controls speed through pressure applied to the pedals.