Various projects - for our own house/use unless otherwise stated

Kitchen/dining table - made from birch plywood, exposed edges, with chrome hairpin legs and finished with a natural/clear oil.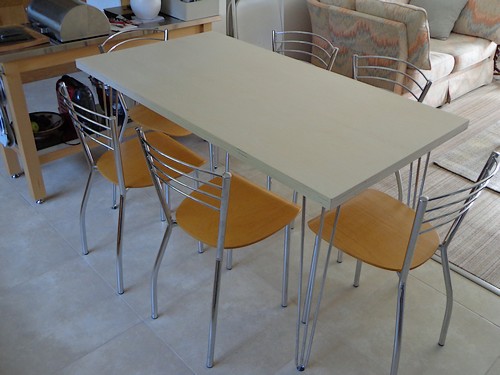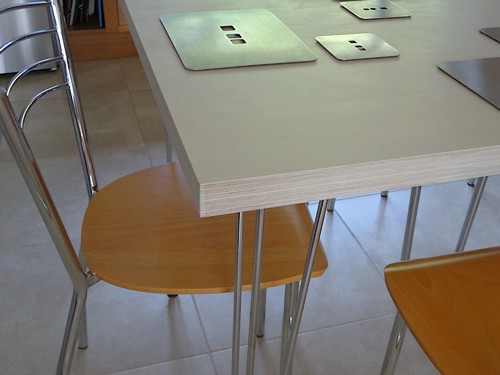 Single drawer console table - made from birch plywood, exposed edges, with chrome hairpin legs and the same finish as the kitchen/dining table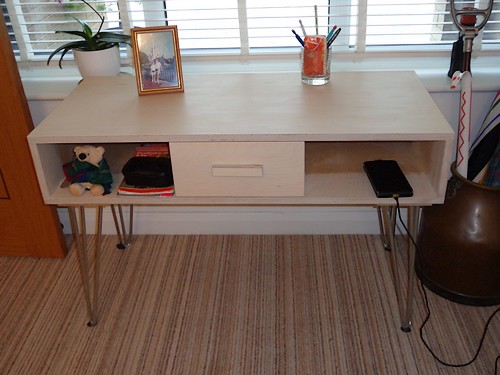 Pantry shelving - fitted, making use of what was an empty cupboard - made from 18mm plywood, with inset shelves for strength - finished with a matt varnish/seal.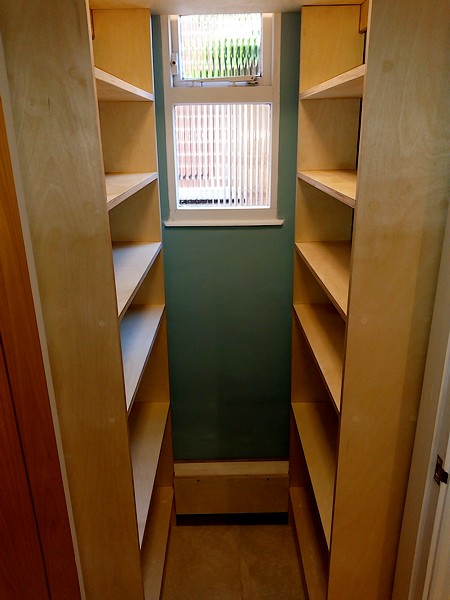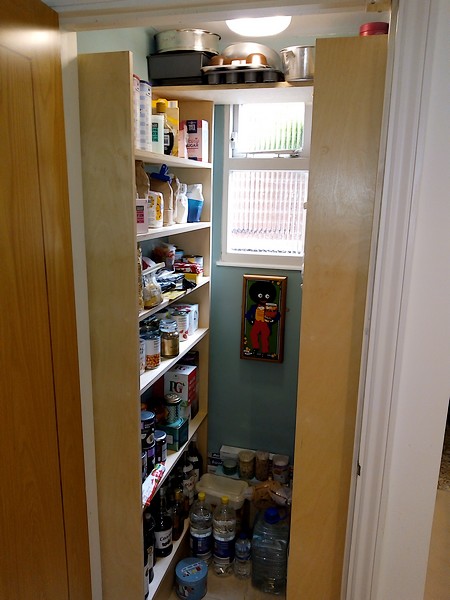 Pan drawers - utilising the space in a narrow kitchen unit (the awful granite is scheduled for replacement!)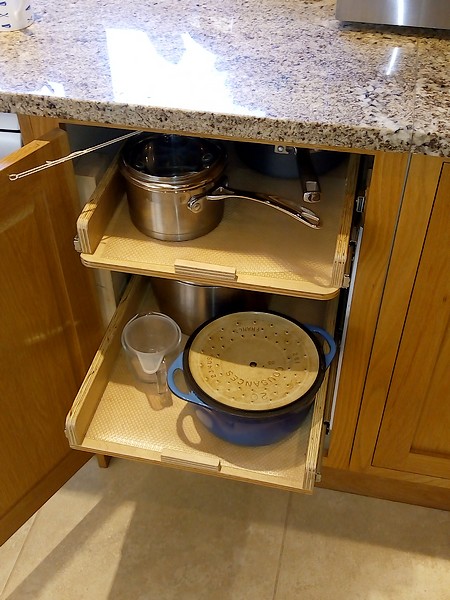 Built-in shelving - to fit dead space having re-sited the fridge-freezer. Made from 18mm MR MDF, with adjustable shelves.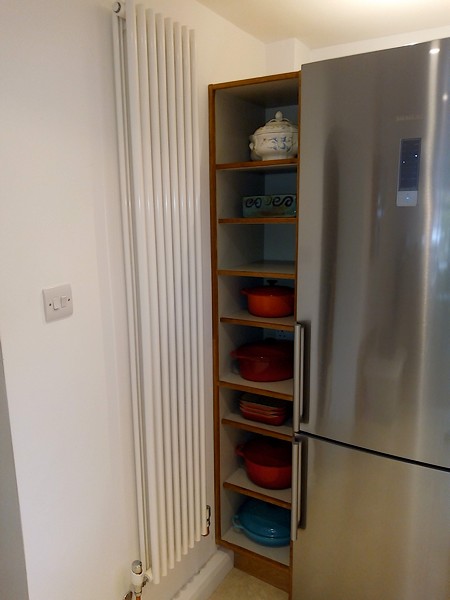 Domestic cleaning cart - made from plywood and wheel units recycled from an Ikea office cabinet.
There is a sloping understair cupboard and the cart was a solution for convenient storage of the vacuum cleaner and cleaning materials.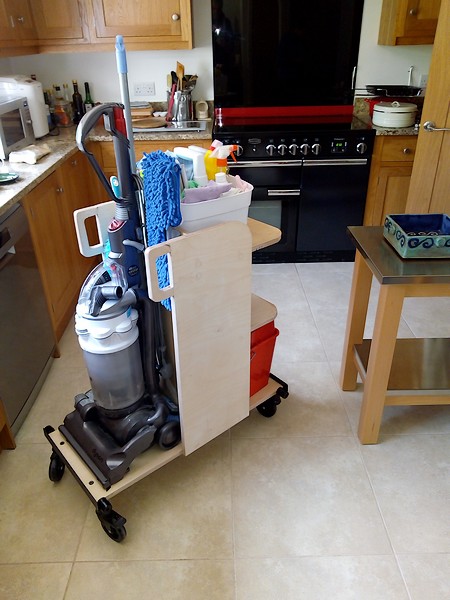 Fitness equipment storage box, on wheels (for a friend) - the box and loaded (it rolls under a table to park it)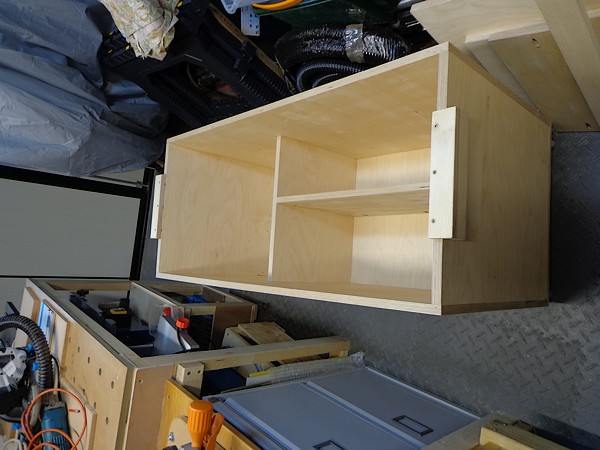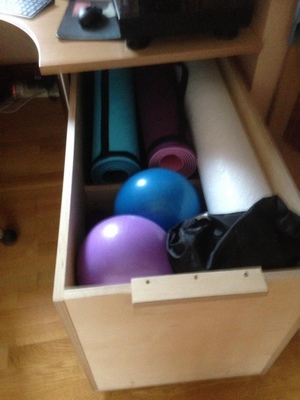 Repairs to a dining chair (for a friend)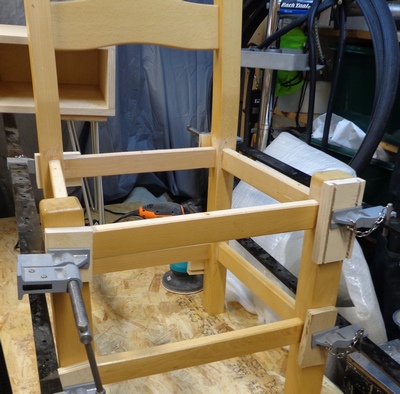 The chair frame joints had become loose - it was taken to pieces, the old glue cleaned off and then glued back together, with sash cramps to hold it in position while it dried.
Poppy display case - a ceramic poppy from the WWI Commemoration event at The Tower of London in 2014 - Blood Swept Lands and Seas of Red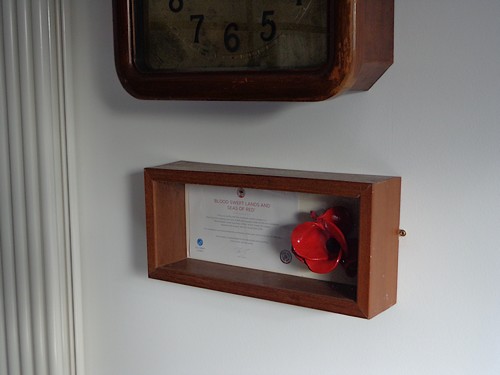 Silhouette of a soldier - a Remembrance theme
I made this from some scraps of plywood in part to learn to use my newly-acquired scroll-saw and to create an appropriate decoraton to have in the house for the few days prior to 11 November each year alongside the poppy. The photograph with the mug is to give an idea of the scale.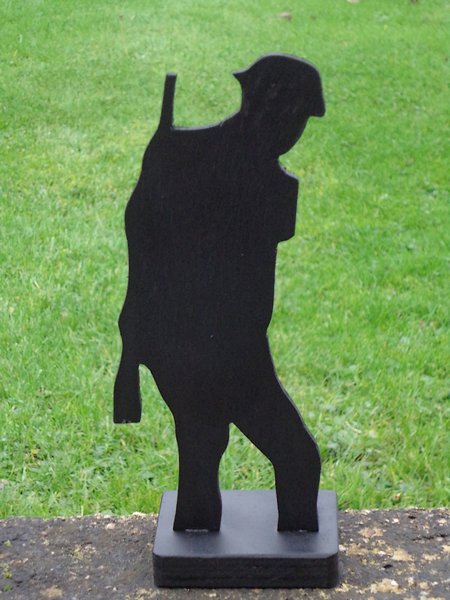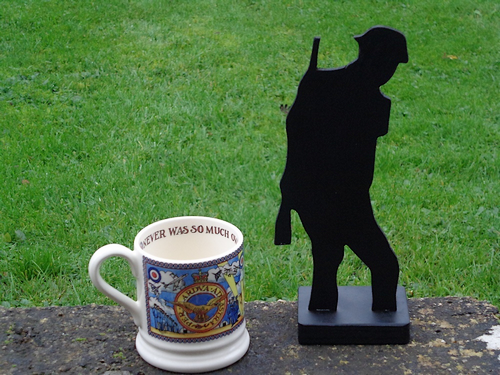 Display cases for model cars (two made for my brother) - the models are 1/8 scale (large!) the case is 70cm long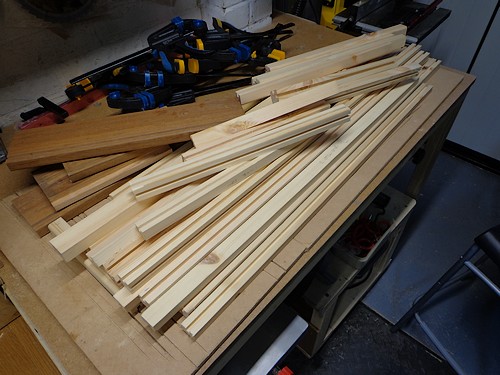 Work in progress - with all the component parts routed to receive the perspex panels - next stage is to stain and varnish before cutting mitred corners and assembly with a solid plinth.
The darker pieces of timber are for another poppy display case, also for my brother.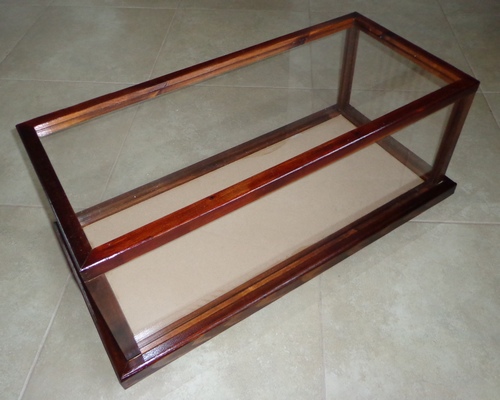 The case (one of two the same) finished - just needs the "floor" painting which is subject to seeing the case with what suits the car models in situ - one is a 1930 Bugatti, the other is a 1950s Citroen Light 15 (Traction Avant). My brother has full-size 1954 Citroen Light 15 on the road.
Two small engraved brass plaques to mount inside the cases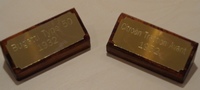 .. . . and the end results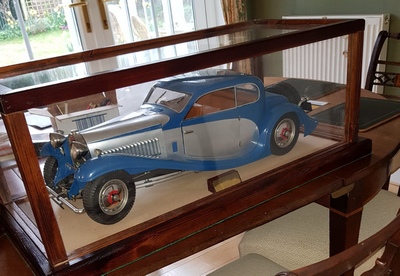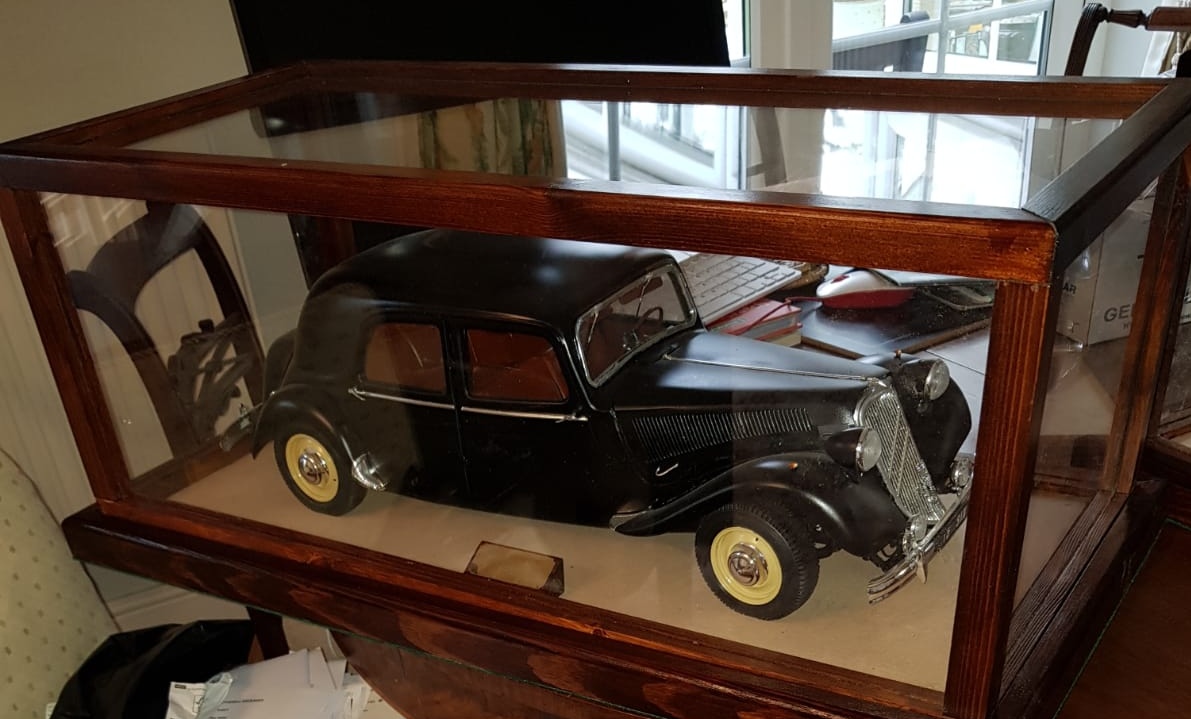 Christmas decorations - snowmen and baubles, bears, a star and Father Christmas - in situ for 2020's festive (?) season . . . plywood cut-outs made on the scrollsaw and bandsaw.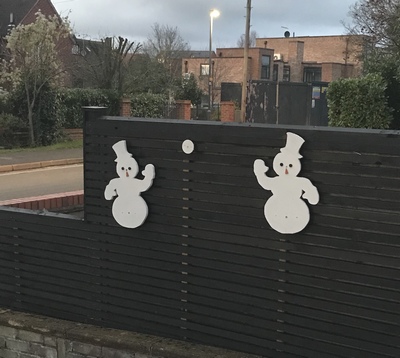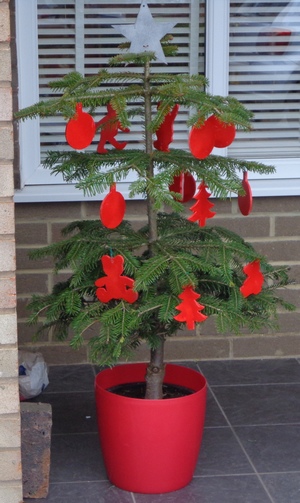 Invitations - Two of our grand-children wanted an "experience" as a Christmas present - they are keen to go to the British Motor Museum so I made a couple of cut-out vehicles with the invitation text so they had something to open on Christmas Day.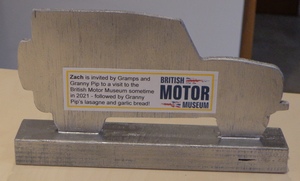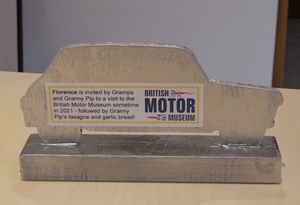 Nativity cut out - a gift for a friend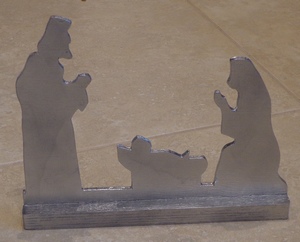 Poppy display case - another one - for my brother. Ready to mount the Certificate of Authenticity and the ceramic poppy.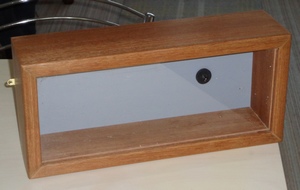 Tiki Bar - made for us and our group of immediate neighbours to share - for alfresco drinks, parties etc. Made from a timber bedframe and pallet timber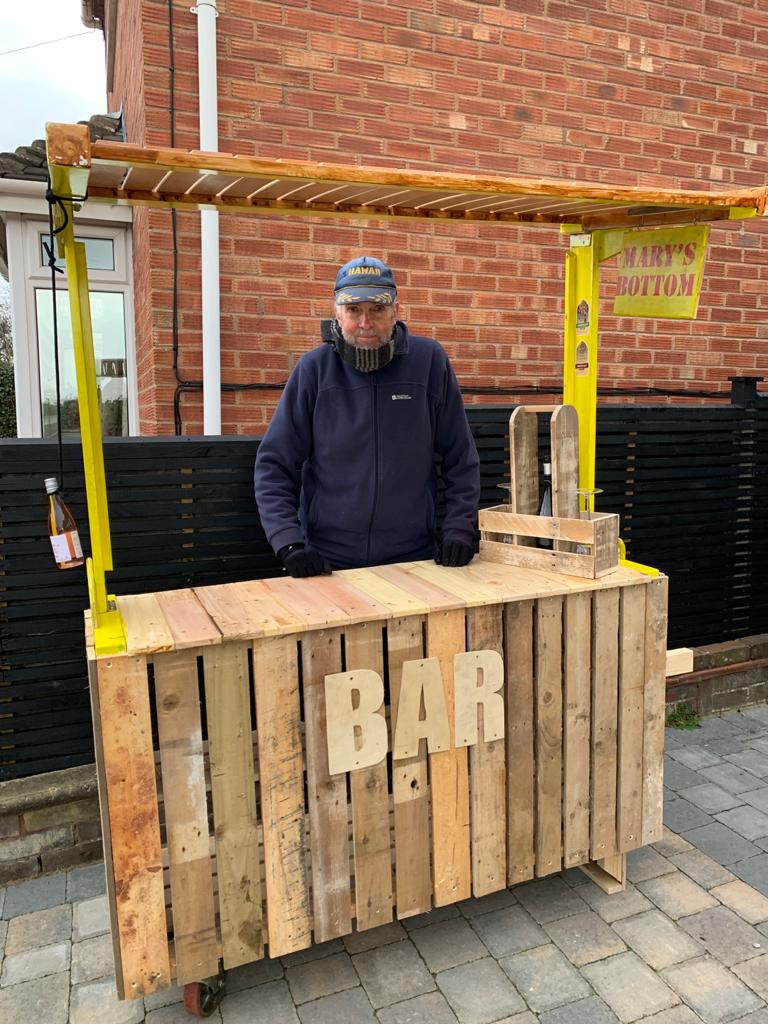 Squirrel feeder box - it took the little chaps a while to grasp how to open the lid and get at the nuts. Inspecting the box and then taking a nut (they now also climb inside the box!)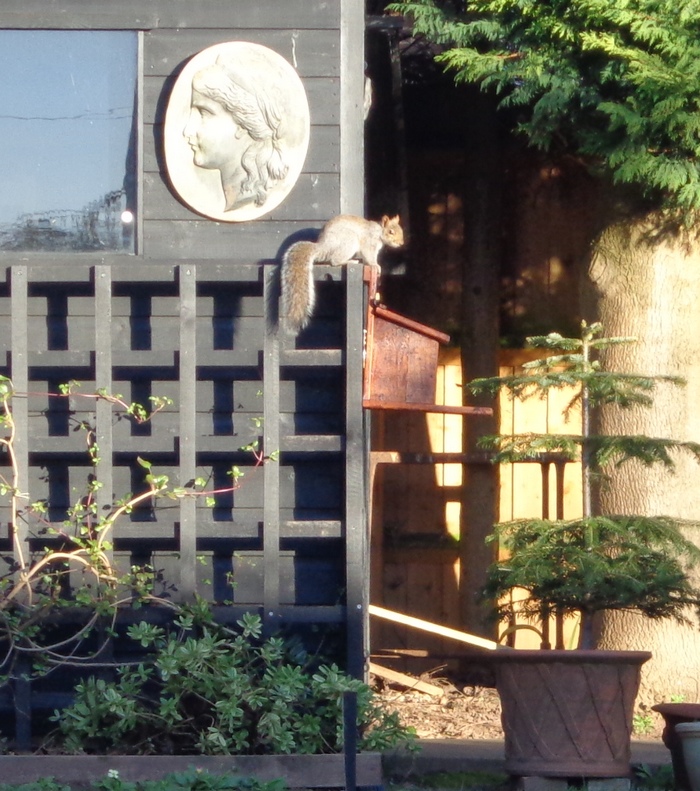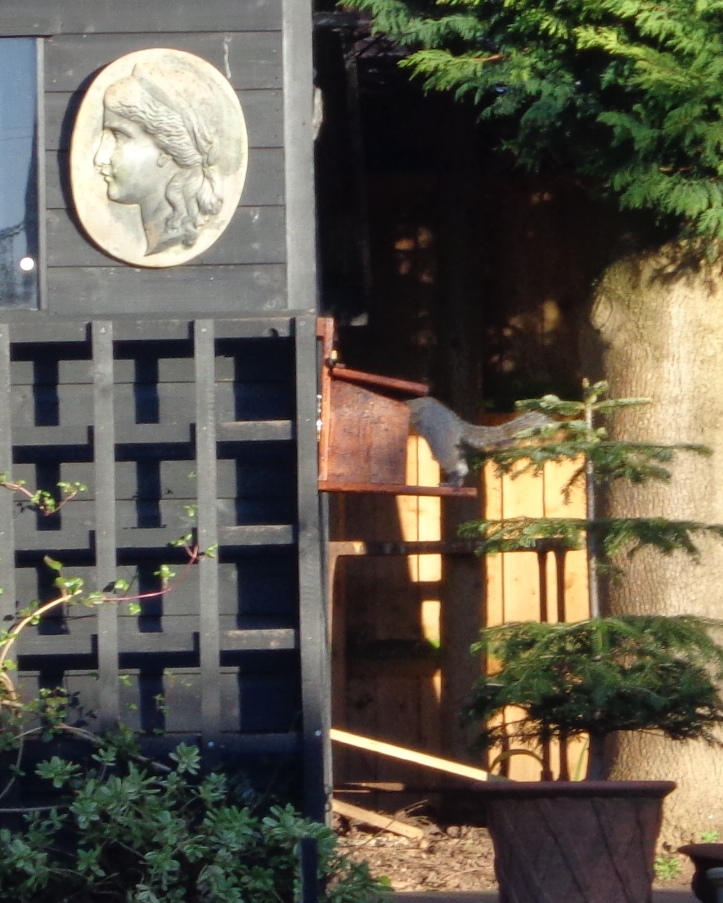 Under-sink slide-out trays - just making it easier to get to all those bottles stored in the cupboards (note the new black granite worktops)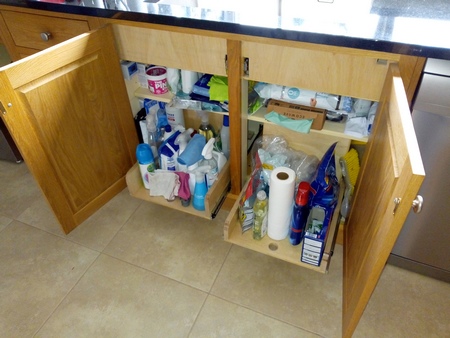 Easter 2021 - in keeping with the season some more cut-outs on the front fence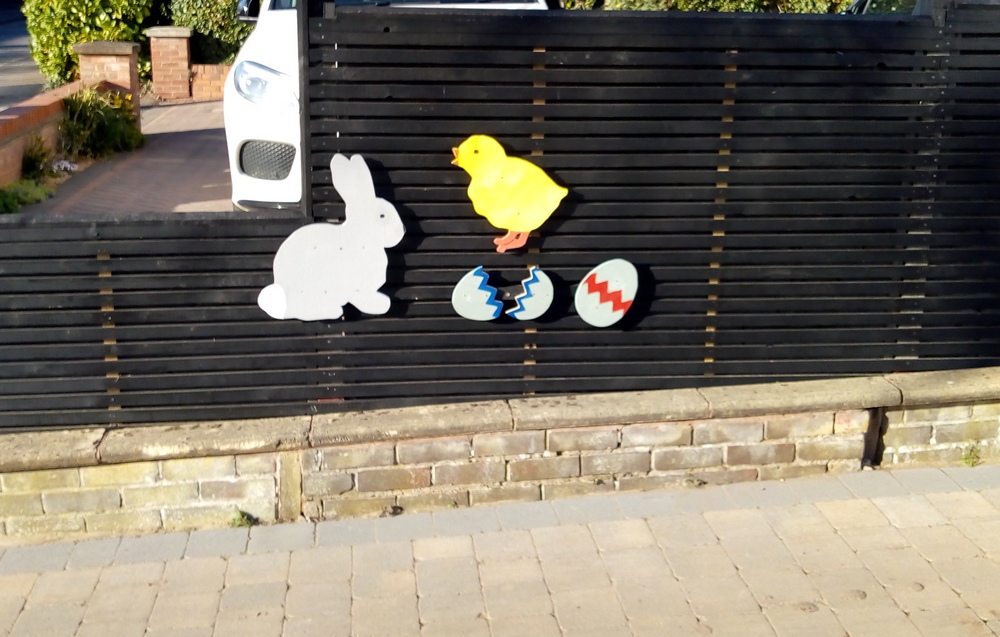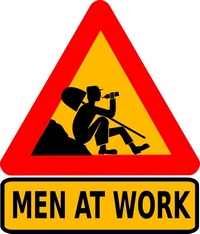 More projects to follow . . . .
The list/work-in-progress:
Transport box for a Nespresso machine to take when we visit offspring that don't appreciate coffee.
Storage box to house/protect my mini-CNC routing machine
Stand/storage to house all the coffee, measures, jugs etc. beside our coffee machine
Further under-sink pull-out storage trays for the utility room
A revised version of the home-made router table
Something to use a piece of black granite that was the cut-out for the sink (possibly a small table using some beech timber recycled from a bed frame)
... and in the garden:
Cladding the new walls that form the much-extended patio area with wide timber slats
Cladding the fence along one side of the garden (same style as the front drive fence, but not painted)
The combined bench/table featured in the Pallet Possibilities section