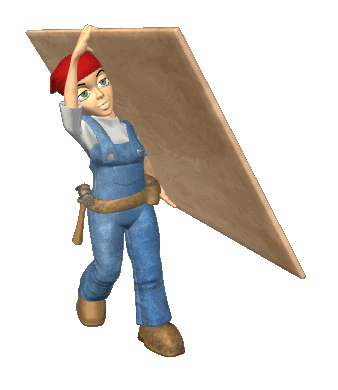 Having originally created a workshop in two-thirds of a single-garage, the plan when we moved house was to have a double-garage - sadly this was not to be . . . we found the ideal house (February 2020) about a mile across town from where we lived but with just a single-garage
The upside was that the garage was accessed directly from the utility room and housed the boiler/hot water system, which provides a very small amount of warmth.
With careful planning and utilisation of the benches, cupboards, racking etc from the previous workshop as well as building a new MFT* bench and incorporating the mitre saw I have a "compact and bijou" place to make and mend things - not forgetting the bike fettling area and hanging storage for three of my bicycles.
A number of the woodworking machines, and the bicycle workstand, are on wheels so they can moved from their storage/parked positions to be used.
Dust from woodworking is an issue so there is a ducting system around the workshop with hoses that connect to various machines and tools with blast-gates - all powered by a Henry vacuum cleaner pulling the air through a cyclone which diverts the dust and wood-shavings into a collection bin. There is also a ceiling mounted air-filter machine that removes much of the dust in the atmosphere. The Henry and air filter are both switched with remote controls.
There are some photographs of the previous and current bicycle workshops in the Bicycles/Workshop section of this website.
Update November2020 - the workshop ceiling has now been insulated and plasterboarded - together with the new insulated and draught-proof garage doors it will, hopefully, be a bit warmer to work in for the winter.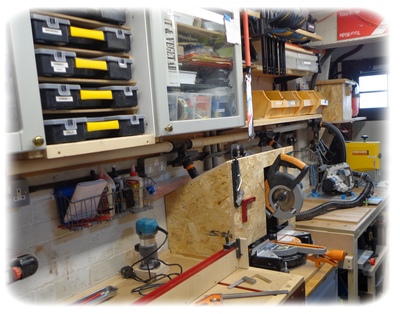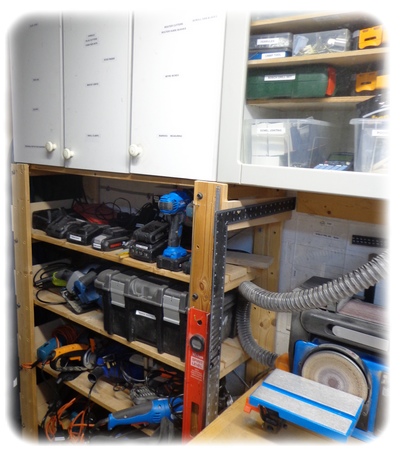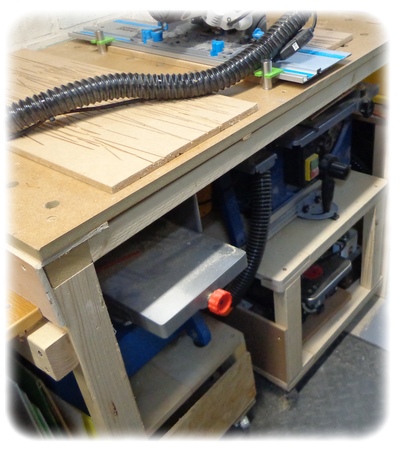 Woodworking area with tool storage and 3 machines (planer/thicknesser, scroll saw, table saw) mounted on trucks stored under a bench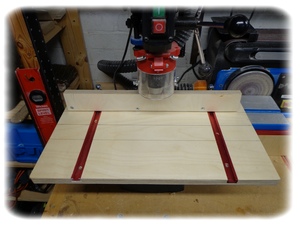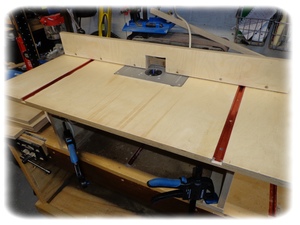 Drill press with home-made table & fence Router table, home-made with router attached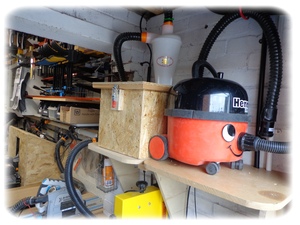 The heart of the dust extraction and filter system - cyclone, sawdust bin, Henry - and the ceiling mounted filter (with remote switch fobs)
The orange-coloured hose connectors and adapters to connect to the machines were made by my brother using a 3D printing machine.

* MFT = Multi Function Table . . . a workbench that has lots of holes into which various clamps and guides fit for wood-working.